Kathleen Odumeru Physiotherapist
Kathleen Odumeru is a graduate of McMaster University's Master of Science in Physiotherapy Program. Prior to studying physiotherapy, she obtained a Bachelor of Science in Biomedical Science from the University of Guelph. She was drawn to the Physiotherapy profession due to her passion for health and wellness promotion, and disease prevention. Kathleen's treatments focus on manual therapy with targeted exercise programs for her patients to successfully achieve their goals. Modalities are also used to help reduce pain and help promote healing of soft tissue.
Kathleen enjoys treating patients of all ages, and with a variety of conditions. She has successfully completed her Diploma of Advanced Orthopedic Manual and Manipulative Physiotherapy: Level 1 exam, and is enthusiastic about continuing her education through taking various professional development courses. When not practicing physiotherapy, Kathleen enjoys maintaining a balanced lifestyle through yoga, snowboarding, cooking, reading, travelling, and spending time with friends and family.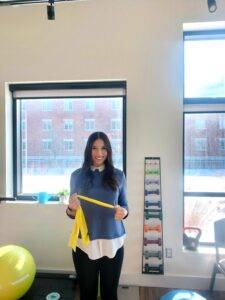 Meet Our Team
The team at CareWell Health Group comes together to bring you the best in collaborative care. We are a multidisciplinary clinic focused on delivering care that is patient-centred. Patient-centred care is when the patient has an active role in clinical decisions and how the treatment is delivered. In this healthcare model, care is respectful of patient preferences, needs, and values.